Fiberglass Fans and Blowers are offered with various wheel designs (backward inclined, radial bladed, radial-tip) and sizes to fir all commonly used duct diameters. From steel mills to chemical processing to emissions control, today's industrial air moving and exhausting systems must withstand a growing variety of severe corrosives. American Blower's fiberglass reinforced plastic (FRP) fans are built to handle these harsh fumes, vapors and gases. This fiberglass polyester composition is also impervious to extreme outside environments.
American Blower FRP Axial Fans use an aerodynamic drive housing to protect fan shaft, bearings and drive components from hazardous corrosives. Harmful fumes are blocked from the shaft opening by a labyrinth grease seal. Two series of Canada Blower FRP corrosion resistant roof exhausters fulfil most every installation and ventilating application requirement. Fan sized to 60" diameter handle air volumes to 70,000 CFM and static pressures to 3 inches of WC.
Canada Blower FRV fiberglass roof ventilator is designed for roof mounted exhaust applications where corrosion resistance is a primary consideration. The standard Canada Blower FRP resin used for the FRV is resistant to a large variety of alkalis and other chemical agents. When a corrosion resistant fan is required to withstand chemicals that attack glass or polyester resin, special plastic and reinforcing fan material can be supplied.
American Blower Fiberglass Blowers are designed so that all parts exposed to the airstream are constructed of high-quality corrosion-resistant fiberglass reinforced plastic. They are resistant to attack most chemicals and is ideally suited to applications in the chemical, pulp and paper, wastewater treatment, fertilizer, pharmaceuticals, and metal industries. These radial fiberglass blowers are developed for exhausting moderte volumes of highly corrosive fumes at high pressures - in laboratory fume hoods, mall plating and pickling operations, soil remediation, pulp & paper processes and chemical-fume scrubbers.
American Blower Fiberglass Blowers are intrinsically spark-resistant and can be furnished with explosion proof motors and graphite impregnation too. Two options of fire-retardant resins (Polyester and Vinylester) offer great chemical resistance to highly corrosive gases in pulp and paper processes, chemical-fume extraction, soil remediation, bio-technology, petrochemical industries.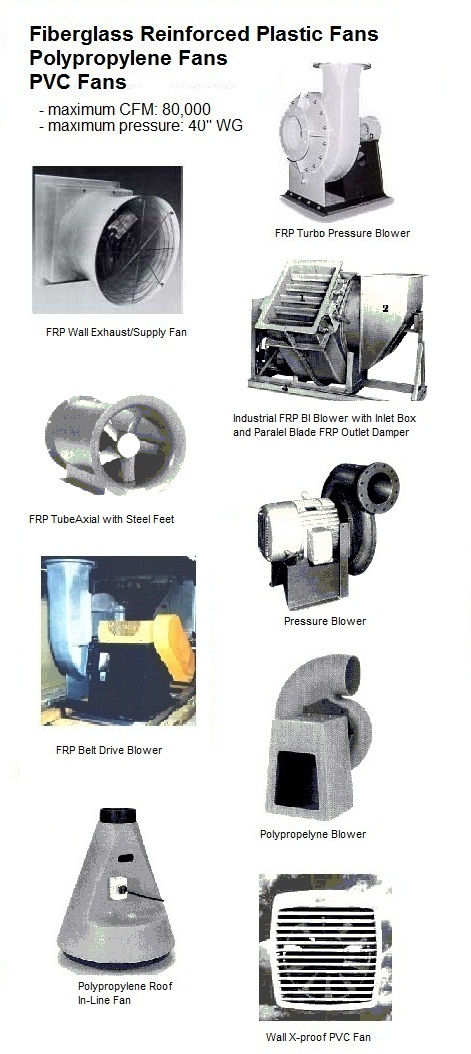 Engineering Sales of Buffalo Blower / New York blower and fans, American Coolair, ILG Chicago, Illinois Blower, Industrial Gas Engineering Industrial air products, fan and blower.
Call us today: 1-866-225-6937 E-mail: blower@industrialpressureblower.com




















ventilating.com fanblower.com highpressureblower.net industrialblowerfan.com industrialfanblower.net industrialfanblower.com pressureblower.net northernindustrialsupplycompany.com industrialpressureblower.com tenderall.com chicagoblowercanada.com cbblower.com buffaloblower.com buffalofan.com nis-co.com canadianblower.com olegsystems.com canadablower.com abbblower.com acmefan.net industrialblower.net fansandblowers.net americanblower.net barryfan.com cincinnatifan.net canadafans.com barryfan.net pennbarry.net pennfan.net tcffan.com.

Canada Blower CBDF fiberglass fan is primarily used for exhausting gases, fumes, and vapors from chemical processes. Straight-through airflow combines the compact advantage of an Canada Blower axial fan with the performance characteristics of a centrifugal fan.

The standard Canada Blower FRP resin used for the Canada Blower CBDF fan is resistant to a large variety of alkalis and other chemical agents. When a corrosion resistant fan is required to withstand chemicals which attack glass or polyester resin, special plastic and reinforcing material can be supplied.

Applications of Centrifugal Fans:

• Air Fan
• Scanner Air Fan
• Booster Air Fan
• Burner Air Fan
• Degasser Blower Degasser Blower
• Combustion Air Fan
• Oil Vapour Exhaust Fan
• Purge Gas Blowers
• Inline Fans
• Supply Air Fan
• Exhaust Air Fan Exhaust Air Fan
• Ventilation Fan
• Radial Blowers
• Turbo Blowers (Centrifugal)
• FD Fan
• ID Fan
• In-series Blowers
• Igniter Air Fan
• Seal Air Fan

Canadian Blower offers a wide variety of corrosion resistant fans for critical applications. We offer axial and centrifugal designs with belt drive, direct drive, or coupling driven configurations. These fans can be used in general ventilation applications (typically space exhaust) or in ducted or pressure applications.

One broad market is water and wastewater treatment facilities. Canada Blower fans can be used to ventilate pumping or lift stations, wet wells, building or enclosure ventilation, chlorination rooms, or fluoridation rooms. They can also be used in odor control systems or water quality labs.

Another market is laboratory research and healthcare applications. These include isolation room exhaust, pharmacy, pathology, necropsy, forensics, fume hood exhaust, biosafety cabinet exhaust, general lab exhaust, chemistry, radioisotope applications, vivarium exhaust, or cage wash exhaust. TheFRP fans are even used for more exotic source exhaust applications like hydrochloric acid or hydrofluoric acid.

The industrial manufacturing business is also another major marketplace for Canada Blower. We supply fans for a wide variety of application services in the industrial and process industries: food and beverage production, pharmaceutical manufacturing and quality assurance, precious metals reclamation, pollution control applications, etc. In any environment where there is corrosive air that needs to be accelerated or controlled, we probably have a suitable fan or dampener.