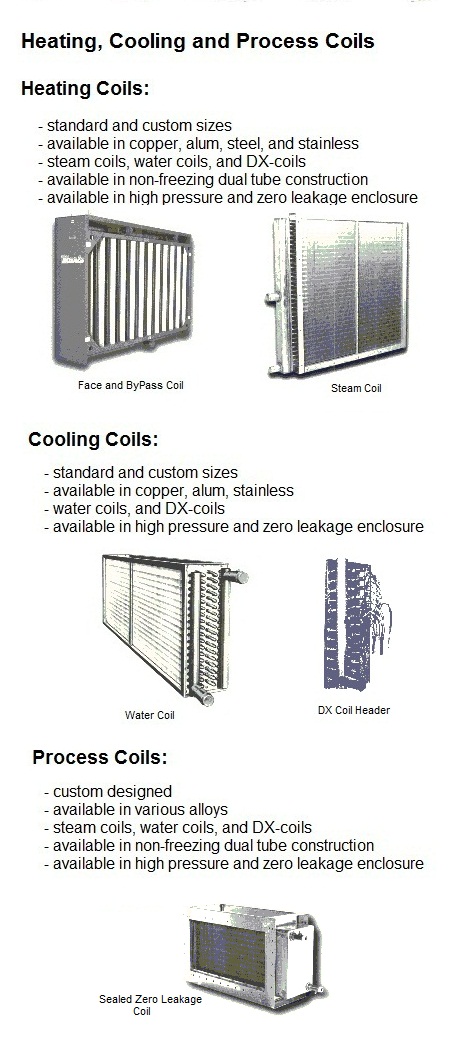 Canada Blower Water Coils
Canada Blower has the capability to manufacture any sized water or fluid coil necessary to fit your application. Whether it be a small 12" x 12" coil for replacement application to a large 12' x 12' custom air handler coil, Canada Blower can build what you need. Canada Blower software allows the design or water, glycol, oil, or any other special fluid that may be needed. Aerofin has the ability to manufacture our coils with a variety of tube materials, including copper, copper-nickel, carbon steel, stainless steel, and many other non-standard materials. The standard construction will consist of carbon steel or non-ferrous headers with threaded pipe connections and will be supplied with vents and drains. Other types of connections and materials, such as flanged or Victaulic, are available.
Canada Blower Steam Coils
Canada Blower has many different styles of steam coils to fit your needs. Whether your application is used to preheat air going into a combustion chamber at a coal-fired power plant, dry cereal before packaging, heat air in an air handler, or some other type of application, we have the solution for you. Canada Blower as the ability to use light gauge material for commercial products, to heavy gauge items for those large heavy duty industrial plants. Canada Blower can offer Steam Distributing coils with connections on the same end, or blast coils in which connections are on opposite ends. We also can manufacture our Flexitube coil, in which the tube itself moves to handle the expansion and contraction of the coil where both ends may be fixed. Often times, Canada Blower can also provide these coils in a slide-out housing, allowing easy access for coils to be cleaned or inspected in a minimal amount of time.
Evaporator Coils
Canada Blower designs and manufactures a variety style of Evaporator coils to fit your refrigeration needs. Each coil is designed for your specific refrigerant and application and can be built to a variety of different styles including Single and Multi-circuited designs, such as Face or Interlaced control.
Chicago Blower fans, high pressure blowers and high volume explosion=proof fans and ventilators
Call us today: 1-866-225-6937 E-mail: blower@industrialpressureblower.com

HC Hot Water, CW Chilled Water Coils are designed to mount on the inlet of the duct fan or inside the ventilation duct. Canada Blower Co. has introduced a new reliable and efficient air make-up unit designs for industrial building ventilation. In industrial plants where there is a high density of employees and many manual operations involved, an improvement in the environment can produce substantial benefits in terms of increased production, reduced errors, and a decline in complaints and absenteeism among employees.

CANADA BLOWER is a well-known supplier of heat transfer coils for a variety of applications. We will build a coil to your design or you can tell us your requirement and we'll design it using our computer coil selection programs.

We specialize in rapid delivery of replacement coils.

TYPES OF COILS :

Fluid (Cooling & Heating) Coils: Chilled or hot water / glycol coils suited to a wide variety of applications - from commercial HVAC to industrial preocesses.

Steam Coils: Constructed with heavy wall copper tubing

Evaporator Coils: Induvudually designed to optimize performance on air conditioning or high to medium temperature refrigeration applications.

Condencer / Heat Reclaim Coils: Designed to handle your condencing or heat reclaim requirements.

Special Coils: For your special applications or a "one-of-a-kind" replacement.

We make heating and cooling coils for a vatirty of applications including:

- Hot Water / Chilled Water Coils
- Glycol Heating / Cooling Coils
- Steam Coils
- Evaporator (DX) Coils
- Condenser / Heat Reclaim Coils
- "Run-Around" System Heat Reclaim Coils
- "Special" Coils

ventilating.com fanblower.com highpressureblower.net industrialblowerfan.com industrialfanblower.net industrialfanblower.com pressureblower.net northernindustrialsupplycompany.com industrialpressureblower.com tenderall.com chicagoblowercanada.com cbblower.com buffaloblower.com buffalofan.com nis-co.com canadianblower.com olegsystems.com canadablower.com abbblower.com acmefan.net industrialblower.net fansandblowers.net americanblower.net barryfan.com cincinnatifan.net canadafans.com barryfan.net pennbarry.net pennfan.net tcffan.com.