Canada Blower BD roof ventilator is a versatile, high discharge fan. This ventilator features a taller design than typical centrifugal or propeller roof ventilator fans and is especially useful in the discharge of smoke and / or fumes high above the roof line and away from surrounding ventilation systems. Three part assembly consisting of stack cap, fan section and base. Features cast aluminum airfoil blade propeller. Standard Canada Blower fan construction is heavy-gauge steel finished with air-dried gray enamel. Hot dipped galvanized, stainless steel or all-aluminum ventilator construction are optional.

Low Profile Canada Blower Hooded Roof Ventilators provide cost effective, general purpose ventilation solutions for commercial and light industrial ventilating applications. The aesthetically pleasing modular hood design minimizes extension above the roof line. Both direct and belt driven fan models are available in exhaust and supply configurations. A wide array of adjustable pitch, cast aluminum ventilator propellers are available to meet specific fan performances and application requirements. Canada Blower also offers a complete line of ventilator options and accessories such as roof curbs, backdraft dampers, disconnect switches and special coatings to maintain single source responsibility.

A simple roof ventilator is essentially an opening in the roof with a cover to keep out rain and to prevent winds from interfering with its functioning. Natural convection is an appreciable aid to ventilation in a large building only if it contains sources of large amounts of heat. A further useful adjunct is a fan fan, device for agitating air or gases or moving them from one location to another. Mechanical fans with revolving blades are used for ventilation, in manufacturing, in winnowing grain, to remove dust, cuttings, or other waste, or to provide draft for a fire. The addition of distribution ducts to the fan and a system for forcing air into the building provides greater efficiency. Outlets are designed to attain maximum mixing of air and to move large amounts of air at low velocity so that temperature layers are eliminated. Factories have special suction hoods and enclosures to draw away localized dust, fumes, and heat. Incoming air may be cleaned of dust by filters or electrostatic precipitators.
Deep mines, underwater tunnels, and other subterranean and submarine environments require elaborate mechanically operated systems for maintaining the air supply in a healthful condition. The lives of those working in, or traveling through, such areas depend upon a constant supply of fresh air; not only must the systems used be highly efficient, but there should be provision for emergencies in case of failure of the apparatus in operation. An outgrowth of studies of problems of ventilation is the development of methods of air conditioning heat pump is a reversible device that does mechanical work to extract heat from a cooler place and deliver heat to a warmer place. The heat delivered to the warmer place is, approximately, the sum of the original heat and the work done.
Such ventilation systems, unlike ordinary methods of ventilation, are independent of outdoor atmospheric conditions and can, therefore, maintain the indoor atmosphere at the most healthful temperature and humidity and can free the air of dust and other undesirable materials. They accomplish this, however, at a considerable cost in energy.
Roof ventilators are another option. They work in both summer and winter. In summer, roof ventilators reduce the build up of heat in the ceiling spaces, reducing the heat load on your insulation, meaning that the insulation works more effectively. In turn, you will save on your electricity bills as the air-conditioning systems will not have to work as hard. In winter, it reduces the amount of condensation that forms when warm, moist air from exhaust fans meets cold surfaces. Roof ventilators will also reduce the amount of corrosion and timber that occurs because of condensation. Roof ventilators should be installed where there is sarking underneath tiled roofs, when metal deck roofing is used, and when there is evidence of condensation in the roof spaces or ceilings.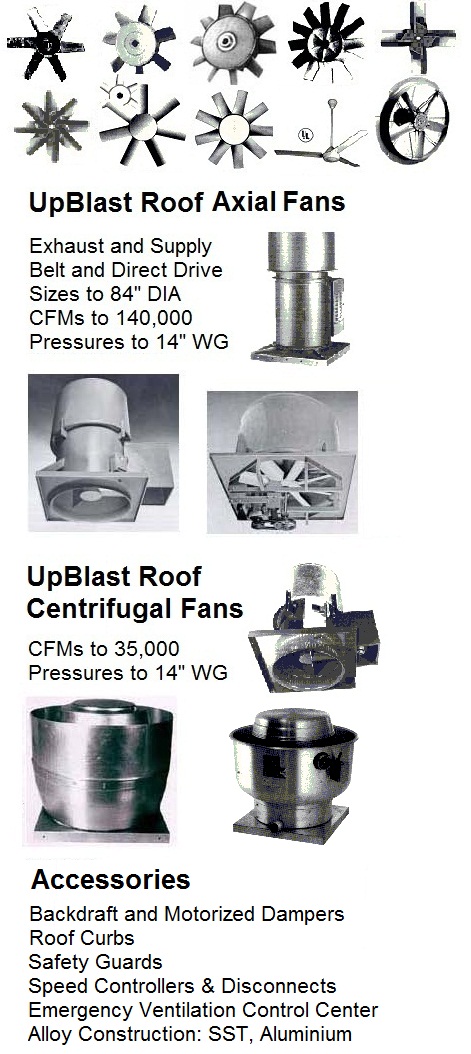 Call us today: 1-866-225-6937 E-mail: blower@industrialpressureblower.com

Supplier of regenerative blowers, positive displacement blowers, Acme fans, Delhi fans, fiberglass fans / FRP blowers, Plastec Propylene fan ventilators, American Coolair ILG ventilators & fans, Grainger ventilators, explosion proof blowers, power roof ventilators, replacement fan bldes / blower wheels.
Industrial & OEM fans, blowers, ventilators, pressure blowers and high temperature fans. Sales of centrifugal & axial fans and blowers, industrial process fans, building ventilators, dust collecting fans. Supplier of radial blowers, vaneaxial & tubeaxial ventilators, explosion proof spark-resistant fans, fiberglass FRP, PVC and Propylene blowers, oven circulating super high temperature fans. Designers of air tight sealed blowers, stainless steel, aluminum and special alloy fans, super high pressure centrifugal, regenerative, side channel and multi-stage blowers, high volume ventilators. Engineering of air moving and industrial ventilation equipment, combustion blowers, material handling and pneumatic conveying fans, inline direct & belt driven ventilators. Distributors of Chicago Blower, American Coolair / ILG NYB TCF fans, wall & roof exhaust and supply power ventilators, panel propeller fans, gas-fired direct and indirect make-up air handling units AHU, air curtains and blow-off air knives and air-knife systems, fan silencers, corrosion-resistant ventilators, positive pressure ventilators, mobile macoolers, reversible duct ventilators, fan dampers and louvers.
An economical in-line fan design - Canada Blower Mixed-Flow Fans.

Canada Blower Upblast Roof Ventilator is designed for heavy duty exhaust and well suited for continuous use. Each Canada Blower Upblast Roof Ventilator features a steel base plate welded to tubular steel struts to form a strong support for the motor and fan mounting base. All Upblast Roof Ventilators use statically and dynamically balanced airfoil fan propellers for optimal performance and longevity. The fan's rolled steel circular windband cuts down on wind resistance and is easily removable for access to the motor and fan propeller. Fan flanges are integrally formed for increased strength. Upblast Roof Ventilator is constructed with close tolerances between the propeller tips and the exhaust orifice to take advantage of the propeller's full area for maximum efficiency.

Canada Blower Upblast Roof Ventilator also features a set of free action, positive force dampers as standard. Fan dampers open automatically when the fan turns on and close when the fan is not running. During blower operation, discharge velocity prevents rain or snow from entering the fan. Air dampers for Canada Blower Upblast Roof Ventilator ride on rust free bearings to reduce maintenance and increase life. L2 blade and L4 blade propellers are used throughout the size range in both direct drive and belted fan models. Direct Drive Upblast Rood Fan uses steel construction as standard. Hot dip galvanized, stainless or all aluminum construction is optional. All fans are cleaned, chemically pretreated using a phosphatizing process and painted inside and out with a light gray enamel finish.

Belt driven Canada Blower Upblast Roof Fan uses the same steel construction, and is also available in hot dip galvanized, stainless and all aluminum fan construction. Canada Blower Belted Roof Ventilator offers a more economical approach to a low-speed, quiet upblast roof ventilator for handling noncontaminated air. Since fan belts and sheaves are in the airstream, the ventilator should not be used to handle high temperature or corrosive air. Drive selection for these fans carries a rating of from 1.3 to 2 times the normal satisfactory capacity.

Canada Blower Hooded Roof Ventilators are high capacity, general supply or exhaust fans well suited to applications that require the quiet and efficient movement of large volumes of air in both commercial and industrial environments. Hooded Roof Ventilator is constructed of heavy-gauge steel panels, a steel base plate welded to tubular steel struts and a deep smooth orifice to allow for greater airflow efficiency. All Hooded Roof Ventilators use statically and dynamically balanced airfoil fan propellers for optimal blower performance and longevity. Sizes 24 thru 60 use a fan hood that is constructed of heavy gauge galvanized steel. Corrosion resistant fiberglass reinforced plastic hoods and other special materials are also available. Fan hoods are attached to the fan with heavy structural angle supports for added stability. The Hooded Roof Ventilator is constructed with close tolerances between the propeller tips and the exhaust orifice to take advantage of the propeller's full area for maximum efficiency.

Canada Blower Low Profile Upblast Propeller Roof Ventilators provide general exhaust of commercial and light industrial buildings while offering a pleasing low profile design that minimizes extension above the roof line. The upblast fan design discharges air and contaminants up and away from the building. These Canada Blower ventilators exhaust large volumes of air at low to medium static pressures. Typical applications for upblast propeller roof ventilators include warehouses, shopping centers and manufacturing facilities. A wide array of adjustable pitch, cast aluminum fan propellers are available to meet specific performances and ventilating application requirements. The cost effective design is available in both belt and direct drive configurations. Application flexibility, cost competitiveness and robust design all combine to make Low Profile Upblast Propeller Roof Ventilators an industry leader.

Canada Blower Co. makes now a truly reversible (exhaust and supply roof fan for general ventilating.

The Type CBRE recirculators are designed for use in commercial and industrial applications where there is sufiicient ceiling height to create a temperature differential between the floor and the ceiling. These applications include factories, warehouses and large commercial buildings.

CBRE Roof Recirculators function as regular power roof ventilators in warmer weather and as an energy-saving recirculation air system in cold weather. Each unit is equipped with a reversible fan that distributes warm ceiling air thoughout the plant and reduces the builing's heating requirements. With a flip of a switch it can function as a conventional roof ventilator. There are two unit types: 1) for exhaust and recirculation; 2) for exhaust, supply and recirculation.

Available fan wheel sizes are from 24" to 60", performances: to 50,000 CFM @ 1/2" WG.

The reversible propeller incorporates specifically engineered airfoil sections and hub size for optimal efficiency and physical strength. Alternate adjustable pitch propeller blades are turned 180 degrees to one another and a double orifice is attached to the fan panel.

Type HS PRVs reliably extract large volumes of hot gases and smoke regardless of building configuration, location and weather conditions. They withstand high temperatures for long periods of time.

Another reliable ventilation system that can operate during a fire is Canada Blower Type HS Heat and Smoke Roof Ventilator. It prevents smoke logging, allows people to escape quickly, minimizes damages to property and contents and enables firemen to attack the fire without hindrance. These power roof ventilators have the added advantage of providing normal day to day ventilation and in many cases can also be fitted with duct work for use in multi storey buildings.

The concept of venting smoke and heat was first outlined by Industrial Risk Insurers (IRI). Use of powered ventilation could eliminate the problems experienced with gravity vents. Specially designed roof mounted exhaust fans would mechanically vent heat and smoke under emergency fire conditions.

The unique Type HS power roof ventilators provide a solution for emergency heat and smoke venting that is dependable under the most extreme circumstances.

All critical components of HS PTV that exposed to the airstream are ferrous construction to withstand high temperature conditions. These heavy gauge materials prevent warping of fan parts and malfunction at high temperatures. This also insures years of trouble-free service in normal daily operation of the PRV.

Belt and bearings are protected from the air stream by enclosing them in a ventilated tube. Design of HS fan incorporates a heat slinger/impeller. It isolates the fan bearings from damaging heat and draws cooler outside air through the motor compartment and over the belt and bearings. A spring load, fusible link activated device automatically opens dampers when temperature at the fan reaches 165 F. Thei enables the fan to function as a gravity ventilator prior to powered operation.

ventilating.com fanblower.com highpressureblower.net industrialblowerfan.com industrialfanblower.net industrialfanblower.com pressureblower.net northernindustrialsupplycompany.com industrialpressureblower.com tenderall.com chicagoblowercanada.com cbblower.com buffaloblower.com buffalofan.com nis-co.com canadianblower.com olegsystems.com canadablower.com abbblower.com acmefan.net industrialblower.net fansandblowers.net americanblower.net barryfan.com cincinnatifan.net canadafans.com barryfan.net pennbarry.net pennfan.net tcffan.com