A make-up air system usually consist of a wall-mounted American Blower propeller fan coupled with an automatic shutter or an inlet weatherhood and a control system to activate the fan motor. For rooftop installations, a powered American Blower hooded roof ventilator, which may contain a motorized shutter, can be used successfully. These systems would provide make-up air mainly for ventilation purposes.
In many areas, air must be conditioned before entering a facility. This necessitates that the make-up air system have heating and often air cooling and filtering abilities. A so called make-up air unit is required. Typically a make-up air system includes an air mover section, usually a propeller or centrifugal type fan, an air tempering section containing heating and where necessary cooling and filtering equipment, and a control system.
Fan selection and power requirements are generally determined by the application. When only general ventilation is required (fan pressure requirements are low), a propeller type fan can be utilized. To supply make up air through a duct system with a resistance of 0.5 in w.g. or more, a centrifugal fan should be considered. In either system, diffusers may be used to direct the discharge air velocity.
In situations where the inside air quality is acceptable, often a portion of the inside air may be drawn back through the make-up air unit where it is recirculated back into the building. Advantages of using Canada Blower Recirculating Make-Up Air fan units are lowered heating costs, better indoor air mixing (reduced air stratification), as well as constant building pressurization.
An adequate amount of makeup air is required for personnel, machines, and processes to operate properly, efficiently, and safely. Failure to provide adequate make-up air is often the cause of unnecessary expenditures for additional exhaust systems and heating or cooling equipment. These devices in turn compound the problem of air starvation within the building. Reliable, cost effective equipment is available from American Blower to supply the make-up air necessary to balance air removed from a structure.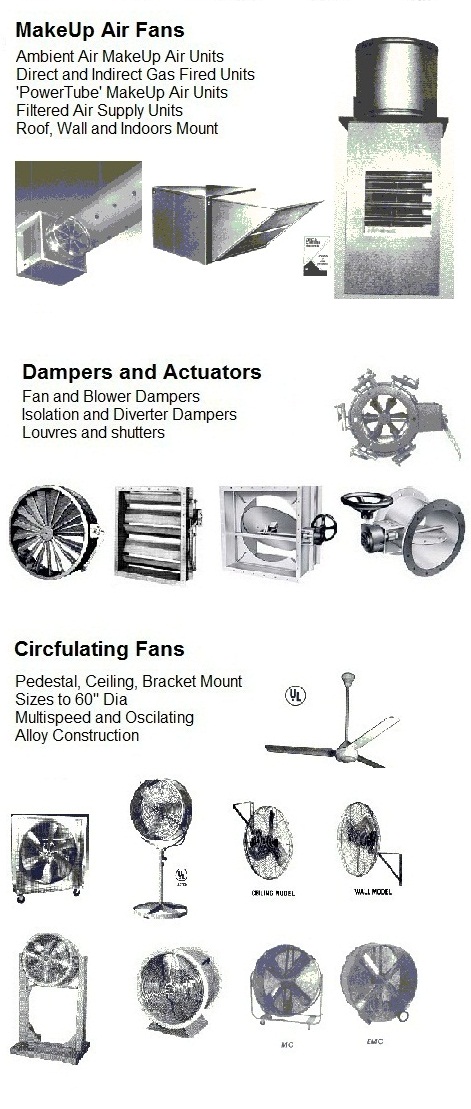 Call us today: 1-866-225-6937 E-mail: blower@industrialpressureblower.com







Canada Blower Axial swingout fans are designed for frequent cleaning and provide easy access to the fan's internal components without having to remove it from the ventilation ductwork. These Canada Blower fans have a proven track record for handling rugged exhaust applications in a wide variety of environments.

Canada Blower Full Swingout Fans: Impeller shaft and bearings are mounted to the door providing easy access to all components outside of the airstream. Canada Blower swingout fan construction is for vertical mounting applications only.

Single & Double Door Clamshell Designs Large hinged access doors provide easy access to the fan components. Impeller shaft and bearings are mounted to the housing and stay in the airstream when the doors are opened. One of the two access doors is wide enough for impeller removal. Canada Blower clamshell construction is for vertical mounting fan applications only.

Full Access Doors: An oversized, full access fan door is used for applications that require occasional access. After the full access door is removed, the internal components of the fan can be accessed through a bolted inspection port on the interior of the Canada Blower fan. Quick Open and Bolted Access doors allow for easy fan inspection. The Quick Open Access Door is specifically designed for fan's that require frequent inspection.