A make-up air system usually consist of a wall-mounted American Blower propeller fan coupled with an automatic shutter or an inlet weatherhood and a control system to activate the fan motor. For rooftop installations, a powered American Blower hooded roof ventilator, which may contain a motorized shutter, can be used successfully. These systems would provide make-up air mainly for ventilation purposes.
In many areas, air must be conditioned before entering a facility. This necessitates that the make-up air system have heating and often air cooling and filtering abilities. A so called make-up air unit is required. Typically a make-up air system includes an air mover section, usually a propeller or centrifugal type fan, an air tempering section containing heating and where necessary cooling and filtering equipment, and a control system.
Fan selection and power requirements are generally determined by the application. When only general ventilation is required (fan pressure requirements are low), a propeller type fan can be utilized. To supply make up air through a duct system with a resistance of 0.5 in w.g. or more, a centrifugal fan should be considered. In either system, diffusers may be used to direct the discharge air velocity.
In situations where the inside air quality is acceptable, often a portion of the inside air may be drawn back through the make-up air unit where it is recirculated back into the building. Advantages of using Canada Blower Recirculating Make-Up Air fan units are lowered heating costs, better indoor air mixing (reduced air stratification), as well as constant building pressurization.
An adequate amount of makeup air is required for personnel, machines, and processes to operate properly, efficiently, and safely. Failure to provide adequate make-up air is often the cause of unnecessary expenditures for additional exhaust systems and heating or cooling equipment. These devices in turn compound the problem of air starvation within the building. Reliable, cost effective equipment is available from American Blower to supply the make-up air necessary to balance air removed from a structure.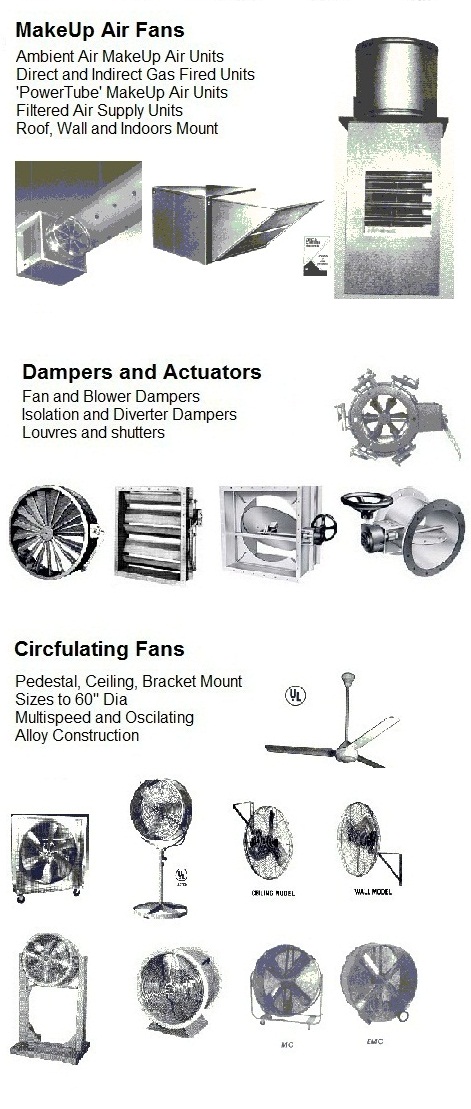 Call us today: 1-866-225-6937 E-mail: blower@industrialpressureblower.com

Heat and Smoke Removal Canada Blower Power Roof Ventilators are especially designed, built and proven by independent test to meet the need of venting hot gases and smoke in the event of fire in commercial and industrial buildings, such as factories, warehouses, parking garages, shopping malls and department stores.

Canada Blower Type HS PRVs reliably extract large volumes of hot gases and smoke regardless of building configuration, location and weather conditions. They withstand high temperatures for long periods of time.

A reliable ventilation system that can operate during a fire is both vital and essential. It prevents smoke logging, allows people to escape quickly, minimizes damages to property and contents and enables firemen to attack the fire without hindrance. These power roof ventilators have the added advantage of providing normal day to day ventilation and in many cases can also be fitted with duct work for use in multi storey buildings.

The concept of venting smoke and heat was first outlined by Industrial Risk Insurers (IRI). Use of powered ventilators could eliminate the problems experienced with gravity vents. Specially designed roof mounted exhaust fans would mechanically vent heat and smoke under emergency fire conditions.

In addition to the reliability and effectiveness of this powered ventilation concept, the use of HS PRVs to vent heat and smokes has these specific advantages:

* It is not dependent on air temperature differential or wind direction and velocity to create air movement.
* It does not rely on heat itself to activate the system. Smoke detectros and water-flow devices also may be utilized.
* It provides for normal ventilation needs of the building as well as for emergency use as a vital component of the fire protection system.
* There is ususally a substantial cost saving in the purchase and installation of the dual purpose system.
* Maintenance cost for building and equipment is frequently reduced.
* The system can be effectively used in multi stories and below grade building areas.
* Reliability of operations is assured because powered ventilators are in daily use and receive regular inspection and maintenance.

The unique Canada Blower Type HS power roof ventilators provide a solution for emergency heat and smoke venting that is dependable under the most extreme circumstances.

All critical components of Canada Blolwer HS PTV that exposed to the airstream are ferrous construction to withstand high temperature conditions. These heavy gauge materials prevent warping of fan parts and malfunction at high temperatures. This also insures years of trouble-free service in normal daily operation of the PRV fan.

The wind shroud is made of galvanized steel; an exterior finish coat of epoxy can be specified. Painted parts are coated with epoxy to provide a protective coating rated excellent for hardness, impact resistance, adhesion and chemical resistance.

Belt and bearings are protected from the air stream by enclosing them in a ventilated tube. Design of HS fan incorporates a heat slinger / impeller. It isolates the fan bearings from damaging heat and draws cooler outside air through the motor compartment and over the belt and bearings. A spring loade, fusible link activated device automatically opens dampers when temperature at the fan reaches 165 F. This enables the fan to function as a gravity ventilator prior to powered operation.

A safety disconnect switch is mounted to the PRV housing. This feature protects maintenance personnel from an accidental fan start when the unit is being serviced.

Type Canada Blolwer HC Power Roof Ventilators have been tested to operate:

- conituously at 650 F;
- 3 Hours at 800 F;
- 1.5 Hours at 1000 F;
- 1/2 Hour at 1,200 F.

ventilating.com fanblower.com highpressureblower.net industrialblowerfan.com industrialfanblower.net industrialfanblower.com pressureblower.net northernindustrialsupplycompany.com industrialpressureblower.com tenderall.com chicagoblowercanada.com cbblower.com buffaloblower.com buffalofan.com nis-co.com canadianblower.com olegsystems.com canadablower.com abbblower.com acmefan.net industrialblower.net fansandblowers.net americanblower.net barryfan.com cincinnatifan.net canadafans.com barryfan.net pennbarry.net pennfan.net tcffan.com
Canada Blower airfoil fan is a rugged multi-purpose centrifugal ventilator equipped with an airfoil wheel suited for supply and exhaust air and industrial applications. With energy efficient airfoil fan blades, Canada Blower airfoil fan provides reliable and quiet operation, even in mildly contaminated air. The fan is also suited for high temperature airstreams.

Airfoil fans are built under Canada Blower's strict "Industrial Quality" standards, the same standards as those used on Canada Blower's custom engineered fans, to assure exceptional performance and reliability. Canada Blower airfoil fans feature rugged heavy gauge fan housings and continuously welded scrolls. From material inspection to plasma cutting to assembly, every stepis governed by stringent quality procedures.